Can you give three to four hours of your time per week, to support your community?
Are you local to Lancashire or Greater Manchester?
If the answer is 'YES', come and volunteer your time with Advocacy Focus!
Our volunteers come to us from a wide range of backgrounds and life experiences. We welcome any person in our community who wishes to offer their time, energy and skills to help others via our award winning Volunteer Academy.
How can you help?
Running drop ins on adult mental health wards
Support our peer advocacy and steering groups
Supporting Advocates on home visits
Helping out in the office with admin and gathering feedback on our services
Supporting us at promotional and fundraising events
Support young people via our Independent Visitor programme
And so much more…
Whatever your background, experience or qualifications, if you believe you have something to offer even for just for a few hours per week (or more if you'd like), call us for a chat about what's available and what skills you feel you can offer so that we can match you to the best possible role. If you have any fundraising ideas, tell us about them we would love to hear from you!
Peer Advocate Volunteers
We also have a team of peer advocate volunteers who have personal experience of mental health challenges or learning disabilities. They draw on their own experiences to support people who access our service and give us invaluable insight into the needs of the people who use our service. Our peer advocates ensure that local health and social care issues are acted upon to make improvement for others accessing services.
What's in it for YOU?
You would be part of an award winning team
You can access a wide range of training and development opportunities
You can gain experience within health and social care to help you into paid employment
You will have a rewarding and fulfilling role
You will make a difference to peoples lives
We were recognised as an organisation for Investing in Volunteers in October 2020.
As winners of the Selnet Excellence in Training and Mentoring Award 2018
We are committed to the effective support and development of all our volunteers.
We were Highly Commended for Volunteer Team of the Year at the 2018 North West Charity Awards.
In 2020 our Volunteer Manager also received a Highly Commended award for Volunteer Manager of the Year.
In joining our team, you can rest assured that you will be trained and supported throughout your time with us, and that you will be given opportunities to really make your role your own!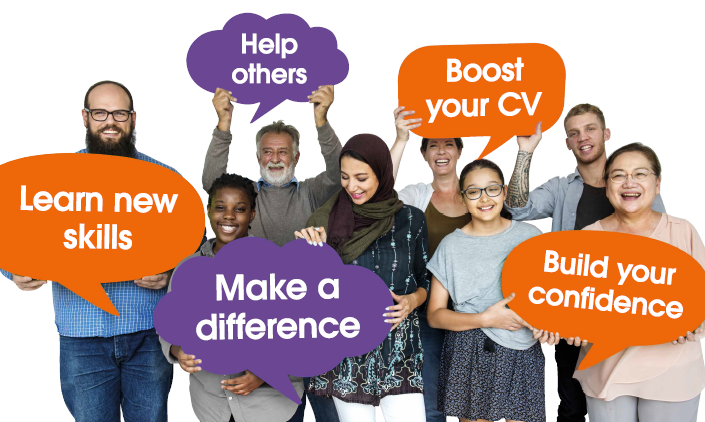 Our volunteers come to us with the expectation to help others, and stay with us to witness how we can help them to build skills, develop abilities and apply their knowledge to get the best out of themselves as well as the work they do for us. We cover any out of pocket expenses and provide a one to one offer of support and mentoring from our Volunteer Manager.
Is volunteering right for you?
You're still reading this, so already you've probably answered 'yes' to being able to spare four hours every week to volunteer. This is a great start, because commitment is a key quality we look for in our volunteers. Commitment shows that you are reliable, a team player, and are looking to give and get as much from the process as possible.
We look for passionate and empathetic individuals who can empower others to find their voice and champion an organisation to provide a quality service in the community.
What do our volunteers think?
I can't thank the Volunteer Manager enough for all the help and understanding she provides. I feel as though she really values my role and makes me feel part of the team.
I've been volunteering with a number of organisations over the past year and Advocacy Focus is by far the most organised. The training was excellent and I felt that as well as helping the organisation the organisation was helping me. I would recommend volunteering for Advocacy Focus.
I really appreciate the opportunity and all the effort staff put into training me. I gained great insight into my career as a clinical psychologist.
Really interesting work and well run programme. Excellent training and the chance to be involved in so many different activities.
I find it hard to explain just how much volunteering with Advocacy Focus has done to my confidence and self-esteem. I feel I've got a purpose again, I'm a lot happier with myself even my family have noticed. I would like to thank everyone at Advocacy Focus for this opportunity.
Volunteer Stories
Find out how we helped volunteers on more personal journeys below.
Fiona
I am really enjoying coming in to the office and being amongst people, I like being busy, sorting out my 3 children and then coming into the office. It is putting structure in my life.
Mental health is something I feel really passionate about, especially after suffering with illness myself. I love feeling part of a team, and my self-belief and confidence is really coming along nicely and I feel like everything that I have gone through in my life has led me to this point.
I feel happy to just be somewhere where I can be myself and not be judged. To empower other people and really believe in my heart that I am capable will be a dream come true and I am beginning to know my worth.
Current volunteer roles
If you are interested in getting involved as a volunteer, find out how to contact us below.
One of our volunteers wrote a short piece about their experience as a volunteer Read the article here